NEWS & EVENTS
You can get the latest news and events in the business world and in the serviced office spaces industry.
DBS Expo at Heritage House draws crowds
Entrepreneurs and small businesses converged at DBS Heritage House, Mumbai on Thursday November 19th for the ‪DBS Expo‬, a one-of-a-kind event for the business community in the city. Participating organisations set up special booths showcasing their products and services. People came in large numbers to interact with the organisers.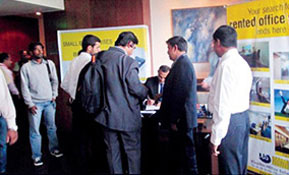 Small Enterprise Event in Bangalore
Small Enterprise Grind 2015, Bangalore, an evet recently co-sponsored by DBS, was a great success. Team bangalore took the opportunity to capitalize on this event to create awareness of the DBS brand. Read More