Choosing a location for your business generally has three main considerations – proximity to customers, suppliers and employees. Other issues are easy transport and parking facilities,proximity to competitors and affiliated businesses which could impact your business.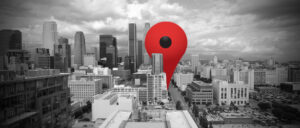 Depending on the nature of the business, you need a location with ready access to enough potential customers. How many people actually pass by? How many would walk in? Foot traffic can make a difference and even the side of the street on which the address is. Unless you provide only services, you will need to depend on suppliers – distributors, wholesalers, manufacturers – to provide you with the items you need to market your product. It is better from the point-of-view of delivery and supplies to be close to suppliers.
The source of material and shipping costs are factors that also play an important role in deciding where to locate your business. Distance makes for delays in deliveries and transporting material from faraway locations can add to costs and make it difficult to be price competitive.
What about the ease with which employees can come to work? How far are they from the location? How much time does commuting take? Are there good public transport links? What about parking facilities?
Another factor to look at is the locality itself. What kind of people live there? What types of businesses operate from there? Does the area receive good police protection? You also need to consider availability of emergency health facilities for your employees.
With so many operations being conducted on-line, the pressure to find a location with easy access to credit facilities and utilities is far less. However, it makes sense to compare the pros and cons of various locations before zeroing on one.
Then there are businesses that depend on 'soft' skills such as writing, editing, consulting, software design where creativity and individual skills play an important part. The location needs to be conducive to getting ideas (good views are great for inspiration).
There are several intangible factors that are difficult to quantify. These have to do with the ambience of the location and the general environment. Restaurants and recreation facilities are a consideration that employees look for. Where can they meet after work? If the nature of your business involves working late, make sure it is not located in an isolated district.
In busy metropolitan cities, it is not easy to get the ideal location. You may have to take what you get and make the most of it. However, once you have prioritized your needs and decided which factors you will not compromise on, the choice may narrow down to a few good or at least acceptable options. If you are moving to a new location, why not share these considerations with your employees before making the final decision? It also makes sense to talk to people who are already in the location to find out both positive and negative points.
If your product and service offerings meet high quality standards, discerning customers may be prepared to sacrifice convenience to reach you wherever you may be located. As they say, if you have a better mousetrap, the world will beat a path to your door.