Mind Your Conference Room Manners
Posted on 17th Sep 2016
Having access to a well-furnished and equipped conference room is essential for entrepreneurs and consultants. But how good are your conference room manners? It is important to follow the right etiquette when leasing a conference or meeting room. If you don't you will create a negative impression and the reputation of being an unwelcome client may affect your getting the bookings you want in the future.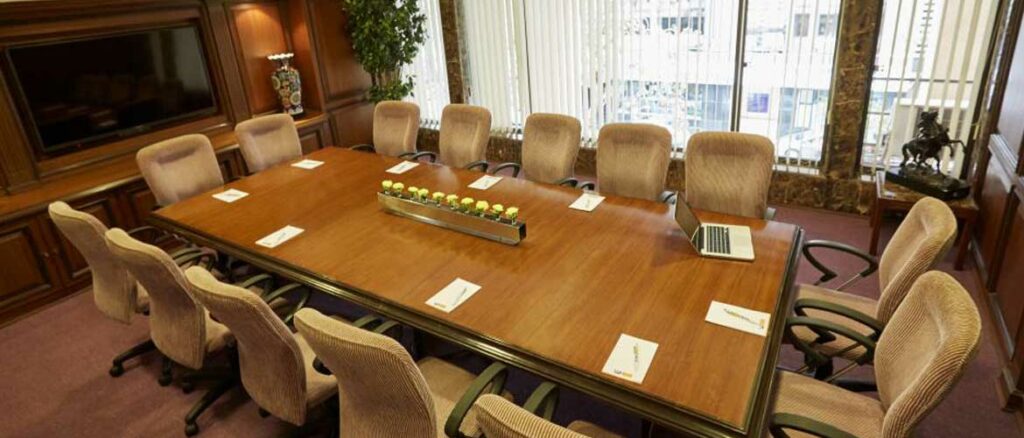 Here are some points of etiquette to bear in mind:
Your attitude and behaviour. The fact that you are hiring the conference room does not mean that you can be rude and demanding. If you have a special need or even a complaint, talk politely to the staff. Take the matter to the office manager so it can be amicably sorted out.
Leave the conference room as clean and tidy as you found it. Take the time to wipe the table, straighten chairs. Remove any litter. If food items have been ordered, make sure garbage is properly disposed of. This is common courtesy. If for some reason you cannot handle this on your own, inform the receptionist or office manager and offer to pay extra for the clean-up.
Book the conference room with enough time in hand. Make sure your reservation allows for an over-run. This will ensure that the person who has the next booking doesn't barge into your meeting. It will be embarrassing if you are asked to leave and there may not be another meeting room you could move into.
Always make a booking. You may find an empty conference room in a business centre. But this doesn't mean that you can walk in and start using it. Check if it's available and that you can book it for a specific period of time.
Don't use the conference room as a second office. Don't spread your papers on the conference table and work from there. The conference room should only be used for meetings. Get separate office space if you need to, even temporarily.
Cancel your booking if it is no longer required. A meeting may have to be cancelled unexpectedly. The first thing you should do is pick up the phone and tell the office manager that you have had to cancel the booking. This will enable him or her to give the booking to someone else.
Book early, cancel early. Formal meetings are usually scheduled in advance. Book the conference room as soon as you have confirmation of the meeting. If for some reason, the meeting is cancelled, cancel the reservation.
Be accommodating. You may have booked a conference room but your meeting could be with just two or three people. If the conference room is urgently required for a larger meeting, offer to move to a smaller meeting room. This gesture will be appreciated and you may be certain that the favour will be returned.
Conference room etiquette is something everyone in business should be aware of. It means being courteous and helpful. The fact that you are paying for the room doesn't mean you can be rude or make unreasonable demands. A little courtesy goes a long way. You'll find that the business centre staff will respond by going out of their way to help.