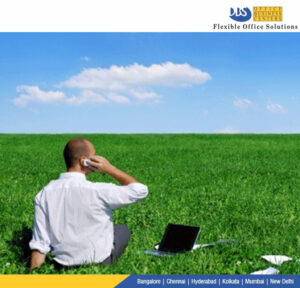 Starting a new business can be exciting but it's also fraught with challenges. You have plans and ideas. But you may well find that putting them into operation in the real world isn't easy. Getting an office space is one of the biggest hurdles you will face. Just this one element can soak up your budget like a sponge. But how can you conduct a business without a place to do it from?
There's an affordable and brilliant answer to the problem. Go virtual. In other words, opt for a virtual office. This means having an office without actually having one. You don't have to lease or buy actual office space to get that professional corporate image. You may be working from home or a garage that's been made over but who's to know? For all intents and purposes, you have a 'real' office.
Look at the many benefits that a virtual office affords. You have a corporate mailing address and all at once your image goes up several notches. You can put that address on your calling card and stationery – it speaks volumes for you.
You can create a professional aura with a host of facilities. A virtual office can give you a dedicated business line with a real-life assistant answering calls on your behalf. You get all your messages so there's no chance of an important lead slipping by because there was no one to answer the phone. Equally unprofessional is to hear a voice calling out, "Dad, it's for you."
Business centers that offer the 'virtual office' option give members lounge facilities. They can meet clients and business associates in an elegant lounge. They have access to meeting rooms for formal discussions. Everything happens on a professional footing. If you use any of the business center's services – such as secretarial or catering services – you just pay for the services you use. An important advantage is that the team running the business center has a good deal of experience and can guide start-ups avoid many pitfalls.
With a virtual office, you'll also find that your productivity increases. When you don't have the hassles of running an office, you can get a lot more done. You have the flexibility to choose your own working hours and follow your unique working style.
In keeping with the times, a virtual office also enables you to be more eco-friendly. No long commutes to the office saves on carbon emissions. Besides, those commutes every day sap your energy – and gas bills are no mean consideration specially when you are starting your business.
The financial benefits really add up. A virtual office means you have seriously low overheads, can keep business operating costs low while developing a professional corporate image. You don't have to invest in furniture and equipment. Just the infrastructure of running an office, staffing it and paying for continuous updates is expensive and there are a lot of hidden costs that can be avoided. Besides, running the office takes up valuable time which you should be spending on growing the business.
With a virtual office, you can project the image you want from Day One, without having to wait until you've saved up enough money to refurbish your 'make-do' office. You can be seen as professional and corporate, command higher prices for your work and also attract a more impressive roster of clients. All this adds to your self-confidence.
Start-ups have their passion and determination working from them. A virtual office provides the support they need specially at this crucial juncture, for their business to take off.