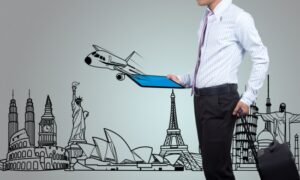 You're a business traveler. You know too well that things don't always go as planned. To avoid hassles, even last-minute panics, here's a checklist of things to pack, as collated from frequent travelers. Don't leave home without them!
Your own MiFi hotspot. It's a credit card-sized package that give you access to 4G networks. Saves a lot of money on airport WiFi connections. It's a personal favourite of many CEOs.
Your own GPS navigation device for rental cars. Fits easily into your purse or carry-on. You can also turn your smartphone into a GPS device. It's good to have a readymade mount for your dashboard. It's convenient and not costly.
A reusable water bottle with a filter. They remove almost 100% tap water contaminants and save 600 plastic bottles over their lifetime.
A small first aid kit with pain reliever, band aids, cough drops and vitamins. Keep a separate zippered bag for medicines you need to take. Also take along spare toothbrushes and facial wipes.
A complete toilet kit with comb, brush, mirror and security-permitted mini-sized supplies in your carry-on.
A spare change of clothes. You can't predict flight delays and weather conditions – so be prepared in case you have to go straight from the airport to a meeting.
Instant coffee packs or teabags. Keep a travel mug on hand – you can easily fill it up with a free cup of hot water from airport eatery counters. (A grateful smile is all that's usually needed.)
Some quick snacks – they should be in your carry-on.
Back-up cell phone and phone and laptop chargers – for emergencies.
Plenty of business cards – and your own name tag.
Extra pens.
Hand sanitizer.
Memory stick.
Camera.
PowerPoint remote clicker. Why depend on someone else to change your slides? And do make sure there's a copy of your presentation on your memory stick…just in case.
Universal power adapter/converter.
A good book (or two).
Frequent travellers make sure they replenish some of these non-perishable items when they return home and keep them in the suitcase, ready for the next trip. Tick off all the items on your checklist before you leave home on your trip.