So, you got a new customer? Congratulations! But have you stopped to think what just that new customer cost you? Perhaps you should wait on passing the champagne around till you consider the matter carefully.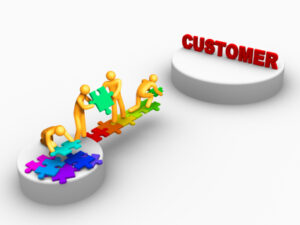 "You can't manage what you don't measure" is good advice. Is that new customer getting you good or poor Return on Investment?
The best way to find out is write it all down. Spend a day in the office just listing every single expense incurred on the new client. Use a whiteboard, spreadsheet or a large sheet of paper and start writing.
Your list could include:
Travel – list how many trips, estimate transport costs – if you use your own car, pro-rate the expense incurred on petrol and wear-and-tear.
Telecom – pro-rate your cell phone, landline and technology costs.
Stationery – this adds up. Apportion an amount for stationery used for the new client.
Courier services – or using your own delivery people. There's a cost attached to this service.
Entertainment – this can make a big hole in the pocket. Get out all the vouchers and include the cost of entertaining at home.
Grooming – yes, there is an extra expense involved here. Be honest with yourself: did you make a trip to the hairdresser specially to meet the new client, or buy a new outfit? While grooming is an on-going expense, a new client sometimes involves splurging. You want to feel good, make a great impression. No harm in that – but write down how much you spent.
Time costs – it's important to keep a job diary listing the exact amount of time you and the team have spent on meetings, research, servicing the client. Include travel time as well.
Professional costs – apart from an agreed professional fee, there may be other inputs – often, a winning marketing idea that you may put across along the way. You should factor in a cost for this as well.
And the most important item of all –What is getting that new customer costing you at the expense of existing customers who you might neglect or relegate to someone junior, while you are spending all your time and energy on the 'new love'.
When you think about it, you'll find that the expenses are both visible and invisible. But getting the actual numbers down instead of going by fictitious impressions will give you a realistic picture of what that new customer is actually costing you. Chances are it's more than you think.
The euphoria of raking in a new customer can make a business person feel that it is easier to attract customers to his door, that somehow he has the 'midas touch'. He may be in for a rude shock. This falls in the realm of 'dream marketing'. New customers may not come rushing to you unless you show them a consistent benefit over the competition. This is what you need to consistently work on while always keeping that list on the cost of a new acquisition in mind.