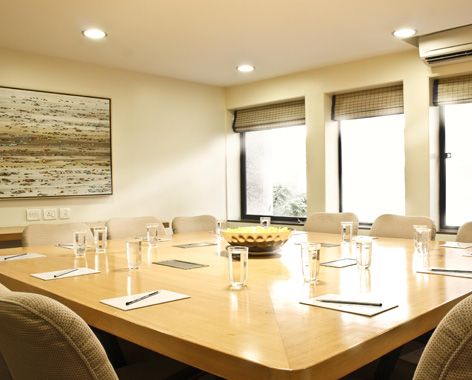 Many offices utilize precious office space for meeting and conference rooms only to discover that they don't require them as much as they thought. Like guest rooms in a home, they are under-utilized but still need to be maintained and cared for. If you identify with this scenario, you may need to make a hard decision: rent a meeting or conference room instead of setting one up in your office taking up space that could otherwise be used for additional offices or your expansion plans.
Hiring a conference or meeting room as and when you require it, makes good business sense. Businesses today require well-equipped and furnished conference or meeting rooms. This means a considerable outlay of expense. Besides, the equipment needs to be constantly updated and you need a back-up technical team to make sure it's running and there are no glitches. People who make business presentations expect the equipment to be running perfectly and they don't usually have the time to do dry-runs beforehand. If the equipment has been barely used, there may be problems that may only surface at the last minute, often leading to unnecessary panic.
State-of-the-art highend meeting rooms in a good business environment say a lot for a company's image. There are several options available in business centers as well as commercial complexes. What factors should you consider before hiring a conference or meeting room?
Location – It should be located in a prime business area with easy connectivity to different modes of transport.
Flexibility – The business center should offer meeting rooms of different sizes and capacities to suit different clients – from start-ups to large corporations. There need to be flexible booking options so you can rent the space by the hour or day or even longer.
Equipment – You need all modern amenities and facilities – including projectors, screen, flipchart, markers, wifi access and often recording and video shooting facilities. The room should be spacious, airconditioned, with a good ambience that spells class and modernity.
Professional support – An experienced team is an invaluable support. They can anticipate needs and handle emergencies with the calm that comes from experience. They can be a reassuring presence that often makes all the difference to the success of the meeting. In addition to providing administrative support, they should be able to help with any technical problems that might arise. The best team have an eye for the small details that matter.
Adaptability – A conference or meeting room can be used for different purposes. Apart from regular board meetings, they can be used for interviews, for holding seminars or training sessions. With a little re-configuration, the seating can be adapted for theatre style presentations or subgroups in a seminar. A manager dedicated to your needs will be able to suggest how you can maximize the space available for your specific requirements. For instance, the room can also be used to display products or samples and a small area can be set aside to meet people on-on-one and answer individual queries.
Cost-effectiveness – By hiring a conference or meeting room instead of incorporating it into your own office space, you are already exercising a cost-effective choice. You should also negotiate with the manager of the business center to agree on suitable terms depending on your needs.
Make the smart choice. Hire a conference or meeting room after looking at all the factors. Whatever may be on the agenda, a conference or meeting room in a modern business center will add to your image…and help make your event a success.